---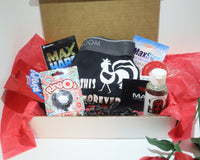 What better way to tell Bae that you love and adore him, then with a Lovie Box! The box contains items just for him, for the after party! The box contains:
"This cock forever yours" boxer briefs
3 different cock rings 
BCD massaging oil
Max Size capsule
Max Hard capsule
Max arousal cream
4 Him Lovie Box was crafted for him with her in mind!!!